Epoxy is waterproof and strong, so it's ideal for filling small knot holes and cracks in wood. But it's important to choose a low-viscosity epoxy that can penetrate these small spaces.
Use TotalBoat Penetrating Epoxy to fill hairline cracks and pinholes. Filling small holes is easier if you use an epoxy syringe, as shown here.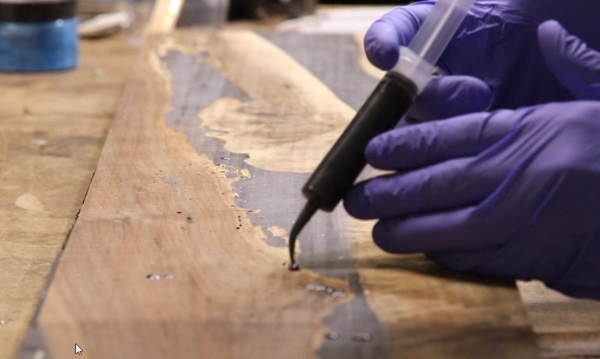 For filling larger voids such as gaps and holes, use TotalBoat High Performance 2:1 Epoxy and blend with epoxy fillers such as silica thickener and milled glass fiber, as needed.
If you're making an epoxy river table and you want the filled cracks to show, you can either leave the mixed liquid epoxy as is, or tint it with epoxy-safe colorants such as mica powders, universal tints, alcohol inks or pigment dispersions.
It's important to note that unprotected epoxied surfaces are not intended for continuous UV exposure. Since most epoxies are not UV-stable, you'll need to coat the cured epoxy with a UV-stable varnish or clear polyurethane varnish to prevent clouding, yellowing and deterioration.